You'll get unlimited access to our healthy Body & Metabolism Program. In this program, you'll discover the 7 Main Metabolism Triggers. We'll show you what they are and how to use them to renew your energy levels, so you can restore your body's natural fat burning potential. And as an extra bonus, for a limited time only, you'll get the entire The Inner World of Fat Loss program. In this program, Michelle, a Certified Life Coach, will guide you through the REAL TURNING POINT IN YOUR LIFE: Managing Your Inner World. She will teach you how to clear out any of the destructive internal conversations you have with yourself that sabotage all your good efforts. You'll receive interactive coaching videos, quick and easy to read e-books, food charts, shopping lists, exercise programs, guided imagery and positive affirmations audios, and everything you need to get started and stay on track. And you'll get 8 weeks of coaching emails guiding and supporting you every step of the way.
The Metabolism and Body Type Interactive PDF Book and the 7 Metabolism and Body Type Coaching Videos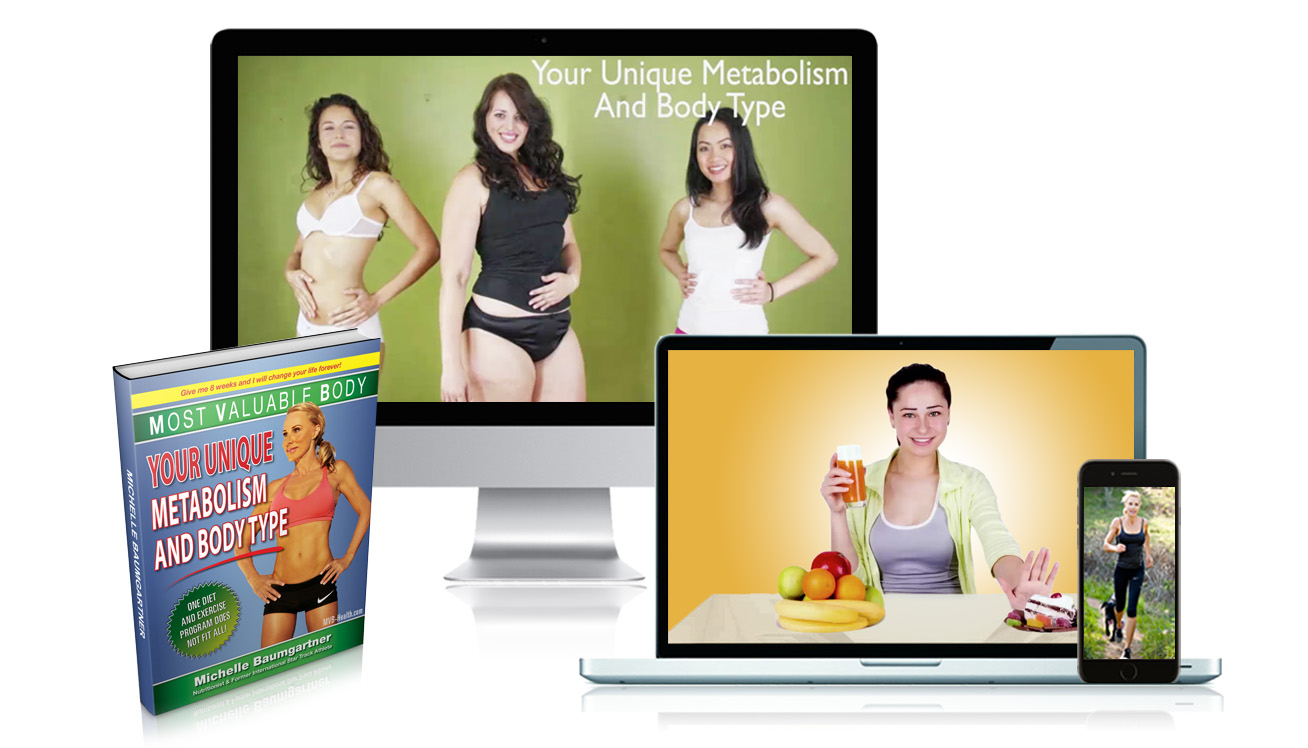 This informative and interactive 90-page book and the 7 accompanying videos can be easily downloaded to your computer, ipad, cell phone or any other similar device. You'll learn:
How your unique body type influences your metabolism, and the REAL reasons why one diet does not fit all.
More about carbohydrates, proteins and fats, and how each body and metabolism type digests, burns and expends these macronutrients differently.
Which foods actually help force your body to release stubborn body fat and cellulite. Once you know what they are, and how to incorporate them into your diet, you'll lose stubborn body fat fast and for a lifetime. It's really that simple once you know what to do!
How your age and hormones influence your metabolism and what to do about it, so you easily and gently lose body fat and feel more alive, vibrant, healthy and full of energy.
The MVB-Health Coaching Audio Booklet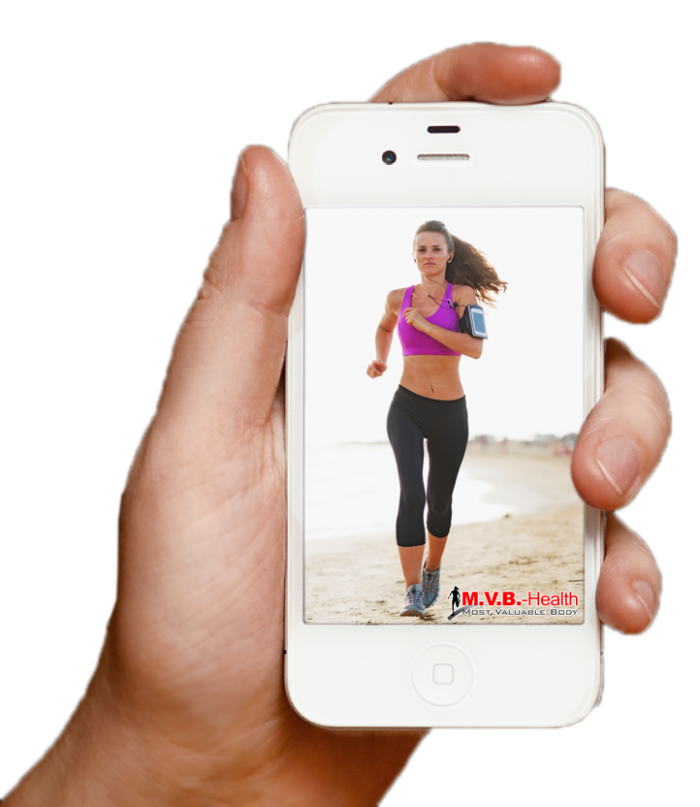 The MVB-Health books are also on audio, so you can comfortably listen to them in your car, when exercising or relaxing at home. Audios are powerfully effective tools to reinforce and guide you towards long-term fat loss and health.
The Body Type Weekly Menu Plans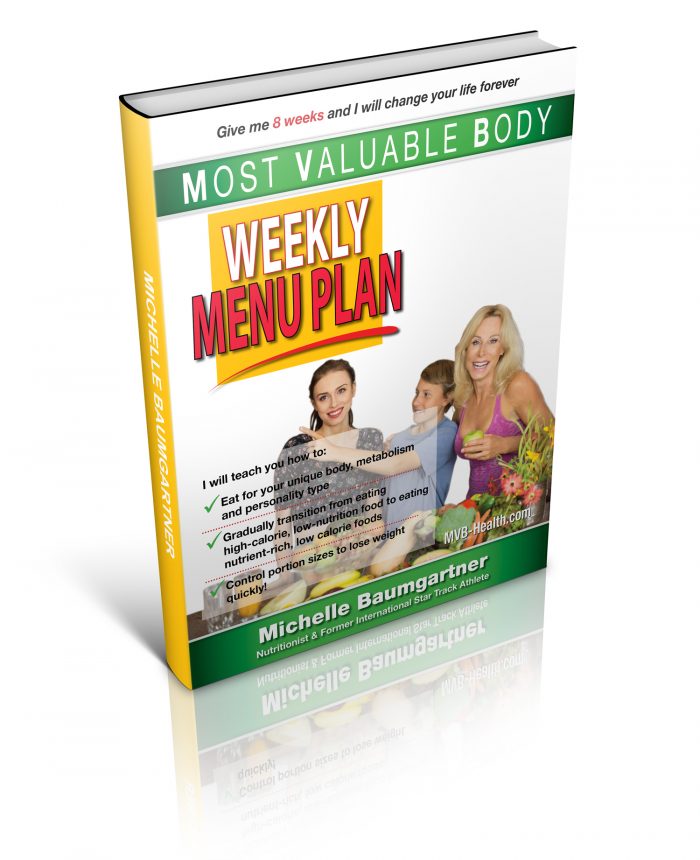 These appealing and delicious Menu Plans are designed to inspire you to want to eat healthy! They focus on your Metabolism Type so you can finally lose body fat for a lifetime.
The MVB-Health Cookbook for Health & Fat Loss
This is a delightfully illustrated Cookbook with over a hundred simple and delicious recipes. You'll discover you do not have to be a gourmet chef to prepare these delectable and mouthwatering meals.
Exercise Programs and Coaching Videos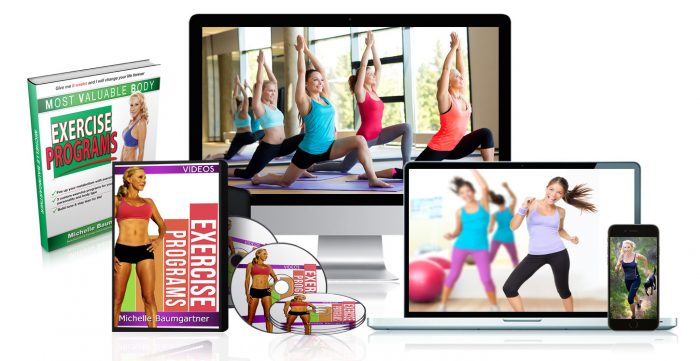 Michelle will teach you how to exercise the right way, not the hard way. Say goodbye to long, tedious cardio sessions and hard, painful workouts that only leave you exhausted and disillusioned. The MVB-Health exercise programs are designed to fit around your busy parenting or work schedule. You'll receive three different programs to suit your individual needs, lifestyle and personality type, and you'll learn how to:
Re-boot your metabolism back to your youth.
Build an exercise program to suit both your personality type and your lifestyle needs.
Fit exercise into your busy daily schedule.
Find fun and innovative ways to start exercising today!
Positive Affirmation Audio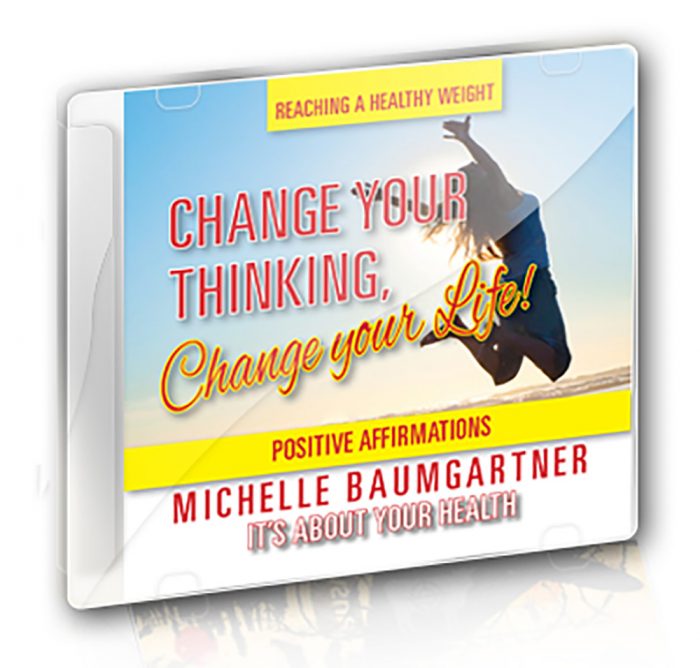 Affirmations are statements reflecting who you are, using the words "I," "I am," "me," or "my." They can help build mental images in your conscious mind. Such images will help lessen the power of certain unconscious memories, experiences, habits, and thoughts that dictate your behavior, even though you're unaware of them. As you train your thoughts through words, you will be increasingly driven to actions to make your life happier and healthier. The MVB-Health teams understands this, and have provided you with a 15 minute affirmation audio, which you can use while any time throughout your day.
Toolbox

Lifestyle Journal and Hunger Meter Chart, so you can stay on track
Comprehensive lists to guide you on how to stock your kitchen
Healthy carbohydrate, protein and fat charts to guide you.
Healthy Snack Lists.
Creative and valuable information on how to add more vegetables to your diet.
You'll also get today the MVB-Health's "The Inner World of Health" program!
If you're someone who really wants to take charge today and make positive, permanent changes in your life, we'll show you how to GO DEEPER with The Inner World of Health Interactive book, audios and videos. In this powerful program, Michelle will coach you through the real turning point in your life: Managing Your Inner World. You'll get the
Inner World of Health easy e-book
to read along with coaching videos audio tutorials, and everything you need to get started and stay on track.
You'll learn you how to:
Clear out any of the destructive internal conversations you have with yourself that sabotage all your good efforts.
More about your physiology, biology and psychology, so you will want to, not "have to" make the right choices.
How to make being healthy habitual for you, so that staying slender and healthy will be easy.
Remove unwanted, deeply ingrained negative beliefs that may be preventing you from losing body fat for a lifetime.